Anyone living in the Clapham region is able to benefit from Homecure's plumbing expertise, our trained engineers dealing with every type of boiler repair imaginable. Whether you have a faulty part that needs replacing in SW4, require a leak repair or anything else, we are one of the most trusted plumbing companies working in this part of London.
Residents living in Clapham and SW4 are more likely to have boiler issues related to hard water, compared to other parts of the UK, as a build-up of limescale can clog up central heating pipes, causing the system to breakdown. Clapham stretches across both the Lambeth and Wandsworth boroughs, and the presence of chalk in the water arriving from the southern coast of the country means that both old and new boilers can require professional help when you least expect it.
WE ARE

GAS SAFE REGISTERED
Homecure takes gas safety seriously.
All of our engineers are on the Gas Safe Register.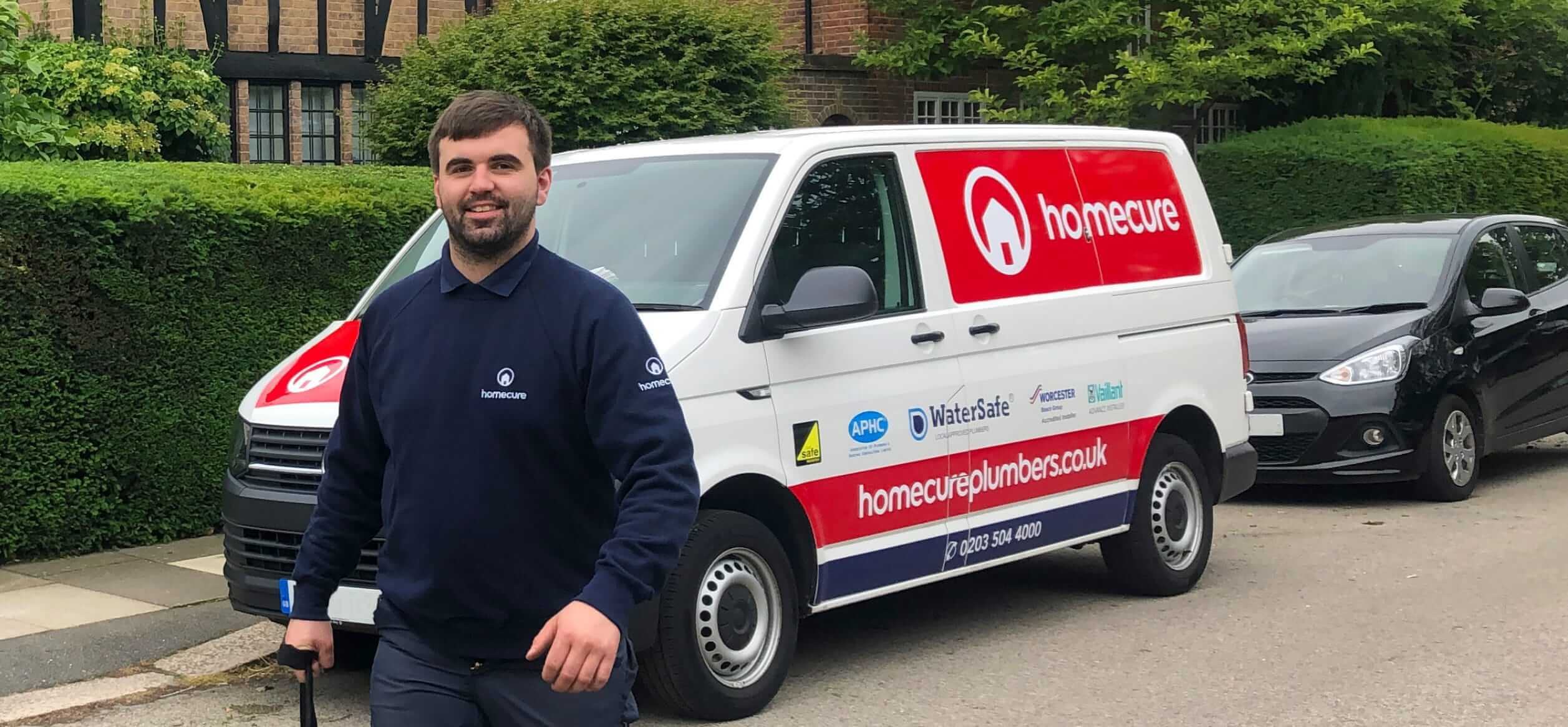 Our plumbing services
in Clapham
I have been using Homecure for years now, they are always professional and helpful. They were quick to respond to an emergency with some plumbing issues when I moved into my new house and I always use them for my boiler services and maintenance. I highly recommend this company.

Clapham, South London
Serving all of Clapham and the surrounding areas.
Emergency boiler repairs in Clapham
Whether you live in Clapham North, Clapham South, Clapham Old Town, Clapham Junction or anywhere else in SW4, Homecure will aim to have a Gas Safe engineer at your door within one hour of your call. We'll quickly identify the problem, apply a safe and cost-effective solution and answer any questions or queries you have about your system, helping you get the most from your heating and hot water supply.
Brands and types of boilers we repair
Homecure provide boiler repair in Clapham for all boiler brands and models. Our engineers are experienced in repairing conventional boilers, combi boilers and heating systems, so there is no issue they will not be able to fix.
Whether your system is a Vaillant, Worcester, Baxi brand or anything else, we assess every boiler on its own merits to find the most affordable and long-term solution for our customers.
Wherever possible our engineers will look to repair your boiler within a single visit. We understand that dealing with a boiler issue can be a huge inconvenience and we do everything possible to minimise disruption. Our local engineers will arrive at your home with a wide range of tools and spare parts, although there may be occasions where an additional part will have to be ordered to enable us to return and complete the repair in full.
No matter what kind of boiler you own, at some point it will break down and need to be fixed. And because it can happen at any time it's important to have instant access to professionals who can identify the problem and get things back to normal as quickly as possible.
Homecure have helped countless residents in Clapham to repair their boilers, responding quickly to emergency callouts to fix unexpected problems. A boiler breakdown can cause a lot of anxiety and stress, and our friendly team can offer reassurances that we'll provide a fast and affordable solution.
Some of the most common reasons for heating repair in Clapham and SW4 include:
Low water pressure: This is a common issue that can usually be easily resolved. It can be due to a leak or faulty part and our Gas Safe registered engineers can spot the issue and apply the solution in no time at all.
No hot water or heating: If the radiators are cold and/or there is no hot water it could be due to a faulty diverter or build-up of sludge in the system. Once a Homecure engineer arrives they will be able to quickly find the source of the problem and restore your heating/hot water so you are not left waiting around.
Leaking boiler: Leaks can occur inside the boiler or the piping, which can lead to a drop in pressure and other issues. This is an issue our engineers have helped fix many times before and they can stop the leak and install any replacement parts needed to get your boiler back up and running.
No pilot flame: Boiler lights that continually flicker or go out could simply require a new light installation. Alternatively, it could be a faulty thermocouple sensor or gas valve that needs to be replaced. Our Gas Safe registered engineers will be able to find the reason and apply the correct solution.
Kettling noises: If you hear banging, whistling or gurgling noises coming from the boiler this is known as 'kettling'. Often it is caused by a build-up of sludge inside the system, or sometimes a faulty part. We can clear this out safely and efficiently using the latest technology to get things back to normal.
Frequently asked questions
Answer:
Prices start from just £79 plus VAT
Evening and weekend rates may vary from the standard office hour rates and prices
We may pass on the cost of parking or congestion charging
Senior citizens and NHS staff can receive a 5% discount upon request
Call 0203 504 4000 now for more information or to book a job now
Answer:
We carry out same day repairs or same day replacement of parts such as fans, diverter valves, PCB's, thermostats, thermistors, air pressure switches, heat exchangers and pretty much every part you can think of. We use a number of suppliers and 95% of the time we can get you up and running the same day. Boiler swaps and central heating installations can take from 1-5 days depending on the complexity of the job.
Answer:
All of our plumbers are Gas Safe and City & Guilds accredited – our plumbers have been trained to the highest of standards to ensure the work they carry out is completely safe and compliant with all relevant regulations. You can rest assured that you're working with a trustworthy, reliable team of experienced plumbers with safety & satisfaction being the top priority when you hire us! We're also members of the AHPC (Association of Plumbing and Heating Contractors), as well as accredited installers & repairers for all major boiler brands.
Answer:
Yes we are fully insured for all work we carry out.
Answer:
We have no call out fees, even in an emergency, however on occasions when a problem requires a diagnosis we may charge a small fee for the plumber's time.
Answer:
Upon completion of any works Homecure will provide you with a full written, no quibble guarantee. We offer a minimum 12 month guarantee on all new installations including boiler and central heating installations with a minimum 3 month written guarantee on all repair work. In certain cases guarantees can be upgraded to 2 years, depending on the type of installation and we can also offer some fantastic extended manufacturer guarantees on certain boilers which can be up to 10 years.
All materials and products purchased by us are covered by full manufacturer's warranties and our labour is backed by our own guarantee of workmanship which is second to none.
Any defects arising from faulty installation or repair work that may require rectification, and that occurs within the guarantee period, are treated as a priority and dealt with at the customer's earliest possible convenience.
Answer:
Our London plumbers are all local and can be with you in an hour. If it is not possible for us to reach you on time, due to unexpected traffic or an accident then we will let you know.
Answer:
Yes, we do a lot of work for Landlords and agents where we collect keys, although it's better if someone is on site in case we need to ask questions or get authorisation for works quicker.
Answer:
If you would like a reminder call then please let our team know in advance.
Answer:
All Homecure plumbers are fully qualified with at least 5 years' experience. All our engineers specialise in reactive maintenance (breakdowns / emergency plumbing) so are excellent problem solvers who have come across almost every known issue possible.
Answer:
Wherever possible and in most cases our engineer will give you a fixed price to complete the job in hand. This is once he/she has fully diagnosed the problem. This way you have peace of mind of knowing the exact cost of the job, no hidden or unexpected fees will be added.
Answer:
We can give free written estimates on major works, these include boiler swaps and new installations, bathroom refurbishments, and more. These estimates are valid for 3 months from the date of the estimation
Answer:
Yes, you can book us up to 4 weeks in advance. But please be aware that changes, amendments or cancellations must be made more than 48 hours in advance. Any changes or cancellations later than this may incur a fee.
Answer:
All our plumbers are local to the area and most of our work comes from recommendations and word of mouth. If you would like the same person to return to carry out more work then let us know and we will see what we can do. If it is not possible then don't worry – all of our plumbers are nice! 🙂
Answer:
Work must be paid for on completion by credit or debit card and we reserve the right to take a deposit for any required parts and materials that may be needed.
Our latest blog posts
What is a combi boiler? Before we delve into how a combi boiler works, it's important to establish what it…
Read More
Noisy pipes are never fun and can be quite alarming if it starts happening suddenly. Here's some commons causes and…
Read More
According to Water UK, in 2022 the average water bill for UK households is expected to be £34.58 a month or…
Read More