Has an external drain become clogged on your property? Discover how to unblock it yourself with some tips from our expert plumbers.
Blocked drains can be frustrating. They create backlogs of waste and often result in rather unpleasant smells. Usually, you'll get blockages in the narrower pipes of your home, such as those in sinks or toilets. However, debris can build up within outside drains as well, leading them to become clogged.
This might seem like a nightmare scenario, but it may not be a total disaster. There are steps you can take to solve the problem and get your plumbing systems back in working order. Need to know how to unblock an outside drain? Our London drainage experts explain.
Step One: Assess the Problem
Access your outdoor drainage through whatever method you can. For most properties, this means removing the drain cover. This may require a screwdriver, although this is rare. Once you have access, inspect the problem.
Is the blockage near the surface or is it out of sight?
Is it simply gunk or does it appear to be a tougher job?
If, after assessing the problem, you think you can manage the job yourself, move on to step two. If the problem looks to be far more challenging than you anticipated, we recommend you avoid tackling the problem yourself and move to step six on this list.
You may also find you have clogged gutter pipes, which are easier to clean out, although it is still worth following these same steps.
Step Two: Obtain the Appropriate Tools for the Job
Removal of an outdoor drain blockage requires a few things. The most critical tool is a drainage rod. These items are long, thin, flexible and often made with steel joints. They enable you to push through the blockage in your drain, reaching deep into the external systems. Cheap and easy to find, don't try to unblock an outside drain without one.
You'll also want some protective clothing, as you'll be digging around inside the drain. We recommend waterproofs — gloves and long-sleeves — as well as protective gear for your mouth and eyes if the blockage is near the surface. Splatter can contain nasty sewage bacteria, which you don't want to come into contact with — as it may cause illness or infection.
You'll also need a bucket and hose — ideally, a pressure hose if you have access to one.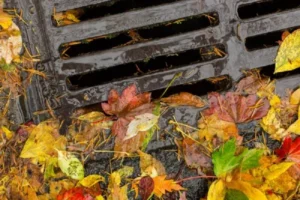 Step Three: Remove Any Blockages You Can Reach
Can you get your arm in and take out some of the blockage? If so, this is your best chance of shifting the matter clogging your drains and making it easier to use your drainage rods for simple debris removal.
It's a horrible job, but it's worth it.
Grab your bucket, place it by the drain and dig in. Remove every piece of blockage material you can. The more you remove, the easier the next steps become.
Step Four: Clear the Blockage
Using your drainage rods, attempt to flush out the blockage.
The narrow metal should slide through the sludge, though you may need to apply a bit of pressure. Move the rods around, breaking apart as much of the blockage as possible. This may take some time, especially if the buildup is quite large or stubborn, so be patient. Keep plunging until it becomes easy to move the drainage rods — if you can see the blockage, it will start to drain and dissipate.
When using your drainage rods, be sure to twist clockwise. If you twist anti-clockwise, you may find the tough blockages actually result in the joints of your rods becoming unscrewed!
Step Five: Clean up the Extra Debris
Once you've removed the blockage and water is flowing through your outside drain again, it's worth spending a bit of extra time making sure that the problem doesn't come back. Using a hose — preferably a pressure hose — clear away any excess debris that has built up around the drain.
The pressure from your hosepipe should dislodge the remaining elements of the blockage that you've loosened with your hands or drainage rod. The cleaner you can get your drains, the longer it will be until you need to do this again.
Step Six: How to Unlock an Outside Drain That Won't Clear? Call in the Professionals
Outside drainage issues tend to be more complex problems than your usual sink blockage. While they are manageable through DIY techniques, these methods aren't always effective. If they don't work, we recommend you avoid attempting more extreme techniques. Damage to your external drainage may occur and you can make the problem worse.
When you can't get past that stubborn blockage, call drainage experts such as our team at Homecure Plumbers. We have the expertise and tools to extract even the toughest drain blockage. A professional hand is often all it takes to get your plumbing back to normal.
If you're left wondering how to unblock an outside drain, even after trying these tips, then it's time to call in your local London Plumber. Call us today to arrange a call out and get your drainage sorted.